Well, there's no turning back now. When faced with the daunting task before them, my painting team bailed.  I supposed when they are working for free, and related to you, this shouldn't come as a surprise.  So here's where we stand after not 1, not 2, but THREE coats of primer to cover the Neverland ranch nightmare mural. If you've seen the before pictures here, you'll notice that I could pretty much end this makeover here. What a difference so far….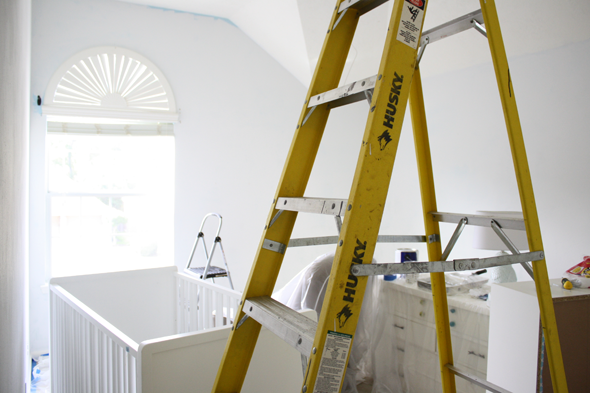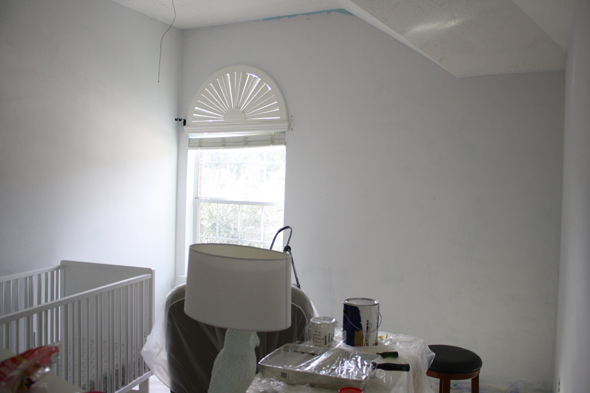 What a beautiful paint mess. Remind me next time that DIY painting is wildly overrated:)  I also started putting together Butter's bed (see below). I've had several of you inquisitive friends ask, "Doesn't a big boy, need a big boy bed?" No, let's not be crazy. If this little curly haired tornado is still willing to sleep (and STAY PUT) in his crib, I'm going to ride this wave all the way to the shore. If he wants to stay contained until his 15, I'm completely okay with that.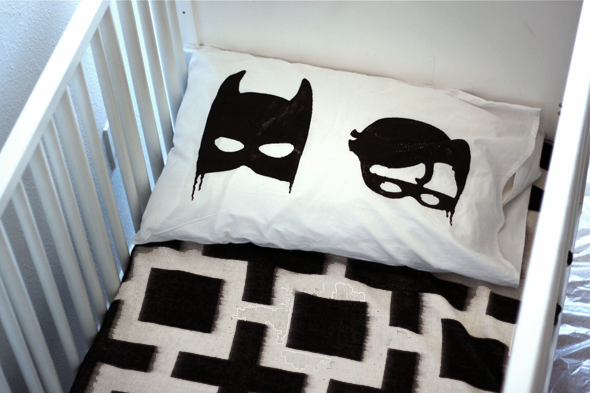 How amazing is this Batboys Pillowcase!!! Even cuter in person. I'm still toying with quilt options, but the J.A. Nixon Alpaca throw is really giving off the vibe I'm looking for.
So, things we STILL need to do:
Paint 2 coats of white – I decided to go with Sherwin William's Extra White. And sadly, the ceiling needs to be painted too. The Extra White is too different from the ceiling white, so add another day of painting to the agenda:)
Set up teepee reading paradise – I'm going to need blankets, enough pillows for a pillow fight, and some more stuffed friends
Hang window treatments – after patching about a million holes in this room from the previous owners, I am in no mood to drill into it, but thus, it must be done
Finish light fixture – Thanks to my Pops, the light fixture is hung, but the rest of it needs to be assembled. FYI the Stockholm has a BILLION pieces.
Add book storage – we have tiny bookcase already in the room, but for this boy who LOVES his books, we need some additional storage
Hardware for the dresser – thinking a bronzy gold, or something a little bit more grown up than the yellow and aqua knobs he currently has
Artwork – I have admittedly given this little to ZERO thought. I may be running to Homegoods the day before the reveal:)
Ceiling – I asked the client what he wanted on his ceiling, and he had a very specific request. I'll save it for the reveal
There are SO many amazing renovations and designs going on for #oneroomchallenge. Hit up Calling it Home, and dive right in.