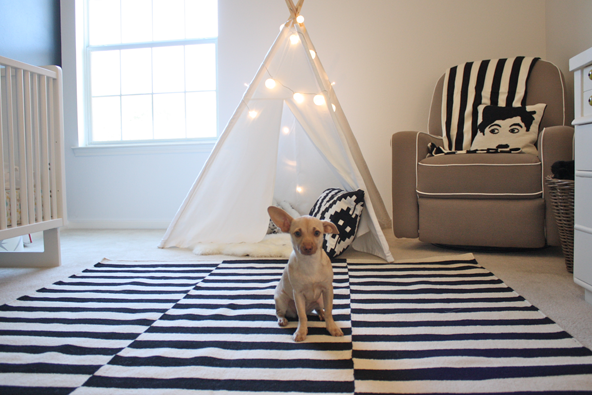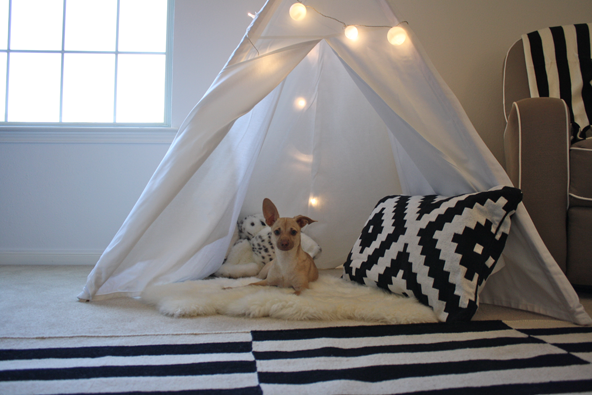 Final stretch. I don't want to give the whole room away, so here is just a little peek:) As you can see, Lady Cordelia decided she was the perfect model for the week 5 shoot..though I don't remember hiring her?  Isn't this teepee from Tip Top Teepee Shop the most perfect little thing you've ever seen?? It makes me soo happy!  As you've read from previous posts, the painting took up soooo very much time, that I will really be scrambling to get everything else in place by Thursday.  I've seen many of our other One Room Challenge lovelies are starting to primp for photos.  Yeah…we aren't quite there yet:)
Here's what's left:
Finish chandelier – we're giving a tiny makeover to the Stockholm from Ikea, and though it's simple, it has been a bit time consuming
Intall book shelves
Hang Artwork – Oh, and probably find some last minute pieces
Zhush/Style dresser
Hang window treatments
Add toddler – Butter bear has been kicked out of his room for a couple of weeks, though he hasn't seemed to mind:)
If you haven't already taken a look at the other ORC peeps, you MUST. There are some serious renovations going on that are putting my measly paint job to shame.  Go see go see!