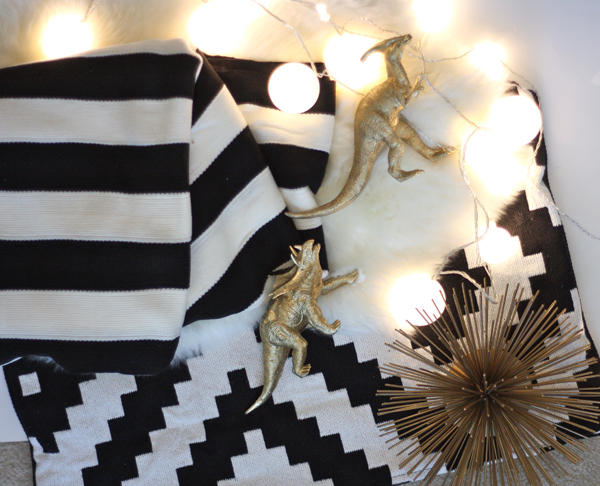 Alright so, if I were to show you photos of the Butter bear's room, it doesn't actually look like any progress has been made However, I promise you,  the groundwork has been laid. Here's what's been happening…..
Over the weekend we pretty much cleared out Ikea, purchasing rugs, pillows, and throws that are going to look AMAZING in the room
Light fixture – we also, trying to be as low budget as possible grabbed the stockholm fixture at Ikea, but we plan to something a little fun and different with it. I was looking at some pricier options, but lets get real, this is a kids room, and I have like 10 other fixtures in the house to replace, so no dice:)
Teepee has been ordered (yeep!! I may use it more than he does)!!
Paint supplies purchased, and crew hired, meaning my Dad and Htown (20 bucks says Htown doesn't paint an inch of the room, but I digress). The walls in this room are crazy high, so priming over the nightmare wonderland will be no small feat.
Batboys pillowcase ordered from our new favorite Kiwis over at Little Pop Studio.
Really, really wanted this lighting bolt from Fromage la Rue, but they are still manufacturing them. I don't even know where I would want to put it in the design, I just know that I want it. Time to come up with a plan B, because this room needs some type of marquee.
And a couple of other magical touches (I can't give everything away!:-)
Current challenge. The ceiling.  Yes, I could just leave it white. It would be so easy, no one will even look up, but that's just not how I roll.  Here's what we've considered so far:
Ceiling triangles like this.
His room is huge, so I would need a million of them, and it would eat up my entire budget, so these are out.
Then we considered doing a cool painting tape job. I took a closer look at the ceiling and it is super duper textured. Keeping paint from bleeding under the tape would be a nightmare. Paint is out.
So now what?  I'm not giving up. This boy will have a cool ceiling. I have a few other ideas in mind, I'll keep you posted. In the meantime, go check out all of the other week #3 fab space transformations at Calling it Home:)